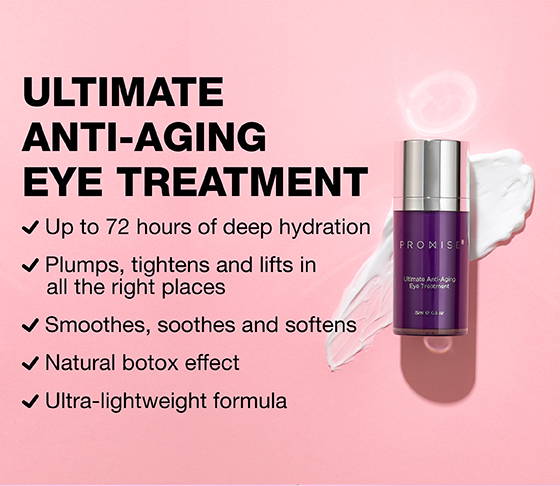 Fullfiled by
Amazon
in US
Brighten and boost your natural glow with our Ultimate Anti-Aging Eye Treatment. Formulated to nourish, moisturize and rejuvenate the delicate area around your eyes, this ultra-light cream packs in all the good stuff your skin needs to truly shine. Made for the young and young-and-heart, our deeply hydrating eye treatment brings together anti-aging antioxidants and the highest quality ingredients to plump, smooth and lift in all the right places. The result? Nourished, youthful, beautiful skin.

The delicate skin around your eyes needs a little extra love to stay plump and hydrated. Even before fine lines and wrinkles develop, dryness in this area can dull your natural glow and leave you prone to developing those first signs of aging a little earlier than you'd hoped. Why so? It's all down to a lack of milk glands, poor lymphatic drainage and the skin's natural thinness. When combined, these factors create an area that's crying out for constant moisture.

So with our Ultimate Anti-Aging Eye Treatment, we've created a treatment that gives your under-eye skin exactly what it wants from the first application. This multifunctional treatment is a powerhouse of antioxidants, hydration complexes and natural moisturizers, all brought together in formulas created specifically for this sensitive area of skin.

Perfect for the young and young-at heart, our ultra-light cream both slows down the signs of aging and smoothes out wrinkles and fine lines. Packed with high quality ingredients that plump, lift and protect, our Ultimate Anti-Aging Eye Treatment offers everything under-eye skin needs to stay bright and beautiful.

Read more

Hydration. 72-hours of deep hydration in an ultra-lightweight formula.
Volumizing. Boosts moisture for plumper looking skin.
Anti-Wrinkle. Smoothes out wrinkles and relaxes muscles around the eyes with the help of skin-loving proteins. The result is a natural Botox effect.
Lifting. Antioxidant-rich White Tea helps tighten skin for a natural lift around the eyes.
Softening. Gives the skin a soft, smooth, and even feel and appearance.
Antioxidant protection. Antioxidant-rich ingredients nourish and protect the skin against early signs of aging.
Soothing. Reduces sensitivity, irritation and redness, making every application an 'ahhhh' moment of relaxation.

Hydration-Complex - Our Hydration Complex is like a natural sponge for the skin, locking in moisture for beautifully refreshed skin. Using a unique combination of hyaluronic acid and sugars, it boosts moisture levels for up to 72 hours. All while strengthening the skin's inter-cellular network to make it more flexible, more resilient, and more beautiful. This all-round hydration helps keep wrinkles and fine lines at bay.
Hexa-Peptide 8 - Boasting six skin-boosting proteins, Hexa-Peptide 8 does the same job as Botox (without a needle in sight). By relaxing muscles around the eyes, this magic ingredient helps to decrease the appearance of wrinkles for tighter, plumper skin.
White Tea - Rich in nourishing antioxidants, this natural extract protects the collagen and elastin fibers in the skin and encourages their regeneration. With less pesky sagging, the skin appears smoother and younger.
Shea butter - Natural Organic Shea butter gets to work deep within the skin to boost hydration, calm irritation and stimulate circulation. The result? Healthy skin with a natural glow.
Squalene - A natural ingredient produced from olive oil, Squalene is an extra powerful antioxidant that nourishes and hydrates the skin, encourages cell rejuvenation.
Glycerin - A natural ingredient derived from coconut oil and palm oil. With impressive moisturizing credentials, glycerin helps lock in moisture for more hydrated skin.
Almond oil - A light oil produced from vitamin-rich sweet almonds. Packed with essential fatty acids, almond oil provides nourishment to dry skin.
Avocado oil - A powerhouse of vitamins, avocado oil nourishes the skin, locks in moisture and protects against aging free radicals. Plus, it's easily absorbed by the skin, maximizing this ingredients many natural benefits.
Rose-Hip Oil (Rose of the Bar) - Rich in vitamins A and C, rose-hip oil helps to clarify the skin and reduce the appearance of fine lines and wrinkles.
Vitamin E - A powerful antioxidant vitamin that helps prevent premature aging of the skin.

In the United States:
Shipment fulfilled by Amazon. Standard delivery takes up to 2-3 business days for 4.95$.
FREE shipping in the unites states on all orders of 50$ and above!




Worldwide:

See delivery time and costs

here

.

FREE shipping worldwide on all orders of 70$ and above!
Please add content on Product Description between tag <additional_info>...your content...</additional_info>
This tab shows the information for all products.